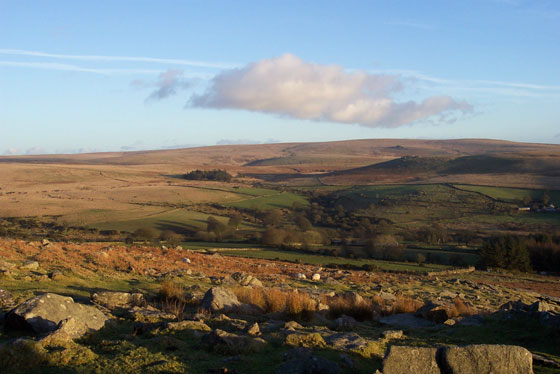 If you've never been mountain biking in the Dartmoor National Park you're in for a treat! We are again ideally located for mountain biking with several awesome Moorland trails suitable for short or whole day trips. We have a modern fleet of Trek 4300 mountain bikes with front suspension which you can hire along with other accessories from CRS Adventures at the River Dart Country Park.
Bikes need to be booked a day in advance and you can collect then from the CRS reception any time from 9am, and they do not need to be returned until 9am the following day. We also have trailers and tag-alongs available. With the bike you will also receive: A repair kit, a pump, a water bottle and a map of cycle trails in the local area.
Students should dress according to the weather forecast in clothing and footwear suitable for cycling. We also hire out our bikes for those who either want to ride alone or put their new skills to the test up on the Moor after an introductory session.
Mountain Bike Hire Cost
£20 per bike per day (Extra for a guide)
£15 per bike trailer or tag along
Guided Tours
As well as mountain bike hire, we also offer trips and training with qualified instructors in the Dartmoor National Park where there are loads of great tracks, trails and quiet lanes. Our qualified guides will take your group on a guided trip tailored to your ability. During the trip they will teach you the basic techniques of off-road biking and how to get the most from your bike. We have bikes of all sizes to suit adults and children alike.
Guides / instructors Cost
£40 half day guide
£80 full day guide
FAQs
Q. Do I need to book in advance?
A. Yes. Please book at least 24 hours in advance
Q. Where Do I collect the mountain bikes from?
A. CRS Adventures reception – any time from 9am.
Q. What time do mountain bikes have to be returned?
A. By 9am the following day.
Q. What Size Mountain Bike Do I need?
A. Standing flat footed on the ground, you should have a minimum of 3″ clearance between yourself and the top tube of the frame.
Q. How much does Mountain bike hire cost?
A. £20 per adult bike per day
Q. How much does the tag-along or trailer or cost to hire?
A. £15 per day
Q. What age is the trailer suited for?
A. 1 year and upwards
Q. What age is the tag-along suited for?
A. 5 years and upwards
Q. Can we use the accessories on our own bikes?
A. Yes
Q. Can we have the Mountain Bikes overnight?
A. Yes, as long as they are returned by 9am unless you have hired them for a longer period of time
Q. Can we take Mountain Bikes off site?
A. Yes, as long as they are locked up when you are not using them
Q. Do we need to leave a deposit?
A. Yes, it needs to be photo ID e.g. driving license, passport
Q. Are there any good bike tracks around the area?
A. So many! We provide maps and our guides can also show you some great off-road spots.
Q. Can you provide mountain bike instruction or Moorland guides?
A. Yes, this can be arranged with qualified mountain biking instructors
What We Provide
Mountain Bikes
Repair Kits
Area Maps
Water Bottle
Helmets
Pumps
What To Wear
T-Shirt
Long Sleeve Top
Shorts
Old Trainers